Sterling silver earrings for non-pierced ears
Earrings clips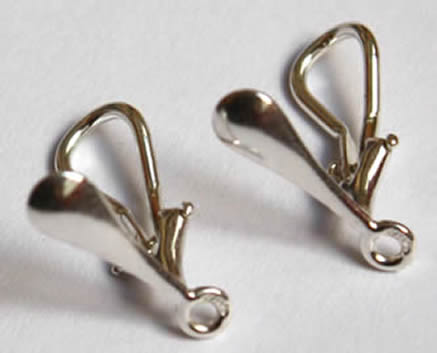 While developing my skills with earrings, I was often asked for earrings for non-pierced ears.
As I started to care more about what my friends would wear, I realized that actually, there were many women who had non-pierced ears. Allergy problems and infections are quite present. Even sometimes, it is just about the fear of having their ears pierced.
Friends and customers told me about their frustration and difficulties of finding original earrings but more especially quality earrings that do not break two days after being purchased. It is true that when you look at the offered items, the choice is kind of restricted and I can understand the frustration when you see the huge choice offered to people with pierced ears.
Therefore, I tried to cope with this increasing request by making a maximum of my earrings with the possibility of changing the clips or fasteners for pierced ears and non pierced ears.
Our non pierced ears earrings catalog
On most of the descriptions in the earrings category, you will find a menu that will allow you to choose non pierced ears clips.
/!\ If you cannot see the option for non pierced ears for a pair of earrings, the reason is that adapting such clips is a bit more complicated. However, this does not mean that I cannot adapt these clips. Do not hesitate to contact me in order to check if I could find a way to make this model adaptable with non pierced ears clips.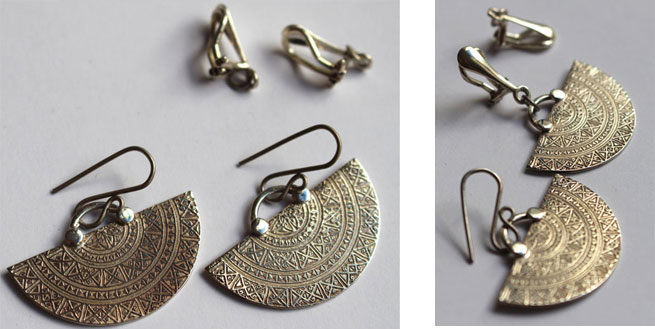 Earrings clips for non pierced ears
Because we want to offer you the best quality, we decided to offer only solid sterling silver clips.
Most allergies are caused by associating metals like nickel with sterling silver. Allergies with sterling silver only are extremely rare. Our own alloy is only made with copper. Therefore, if you are not subject to copper allergies, our earrings will be the best option for you.
We spent and a lot of time looking for the best sterling silver clips that had the same metal quality than our handmade earrings. By doing so, we hope to bring you the best experience and to help you find original earrings without worrying about allergies.
How to choose your clips for non pierced ears
On the earrings pages, you will find a scroll menu with the following options with "Classic" and "Clip earrings" above the "add to your cart" button. In order to place your order with the sterling silver clips earrings, you just have to choose the "with clips for non pierced ears" option.
This earrings option is also detailed in the description of the object.
Some advices for jewelry allergies
Rhodium plating your jewelry to avoid allergies
Rhodium plating your jewelry can be an option to avoid allergies. It is often made with rhodium which is said to be a hypoallergenic metal.
You will have to go to a jeweler's shop and ask for the exact price for such a work.
Rhodium plating a piece of jewelry means that a thin layer of metal will be applied on your jewel. In the long run, this plating will fade away. This means that your skin will also be in contact with the metal and you will have to repeat the process. If you want to do so, be careful with the type of jewelry you would like to plate.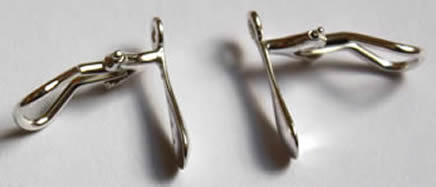 The less contact your jewel will have with your skin and your clothes, the longer your plating will last. This operation will be worth for a pair of earrings which will be less subject to contact with your skin than a ring for example.
However, be careful. Rhodium is not the main metal of your jewel. It is just a thin layer over another metal. Rhodium plating a jewel is not a sign of quality. Most often when you will see that a jewel is plated, it means the metal beneath the thin layer is either brass or another cheap metal. Do not hesitate to ask the seller what kind of metal is under the rhodium plating.
Applying nail polish on your jewel to avoid allergies
Applying transparent nail polish on your jewel can be another option to avoid your skin to be in contact with the metal.
this seems to work for some people but you will have to repeat this process on a regular basis. Indeed, the nail polish will disappear quickly just like it disappears on your nails.
However, you will be able to find a special hypoallergenic nail polish on the web that is said to stay longer on your jewel. The majority of Amazon customers seem to be satisfied with the product in spite of its price. It would also help your jewel to stay shiny a little longer than usual.
Our non pierced ears earrings
In order to make it easier for you to find our earrings that are adaptable for non pierced ears, you can use this Google search motor engine on our website by clicking on the following button: