About...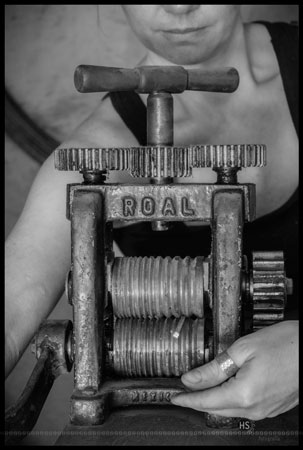 Our studies do not define what we will become in the future. Our natural gifts always find us if we know how to let them bloom into our lives.
Eventually, metal found me and spoke to my heart. It allowed me to express the artistic part we all have within. Before starting working with metal, my different professional experiences were far from any artistic expressions that would have allowed me to use my hands. Nonetheless, these experiences showed me how to look from different perspectives. These experiences are the source of my daily inspiration in the creations of my jewelry.
Mexico is still a country where handmade work speaks to your heart. When you see people here working with their hands and who love to teach you how to make things, you just feel like you want to try too.
The sterling silver we use in the making of our jewels is nickel free. Our alloy is handmade by ourselves using only pure silver and copper. This process allows us to offer you an exceptional quality of sterling silver. Our goal is to give you the best quality because this is our philosophy. We consciously choose to protect the environment in the making of our collections. The elaboration of our products is made in our workshop from the melting of silver to the final polish of the jewel. There are no firms involved as suppliers so that we can control quality from the beginning to the end. We make our own wires and sheets of sterling silver using traditional rolling mills.
We hope you will enjoy your visit in our universe.
About our studio
Our pieces of jewelry were born from our passion for metal and from the will to express a unique emotion through a precious object.
This precious object reflects our philosophy as well as your universe and your emotions through this jewel that speaks, tells, encourages and symbolizes a story… your story.
All our jewelry is created and elaborated by ourselves, made by hand in the most traditional way. We work with traditional machines like manual rolling mills that allow us to create our sterling silver wires and sheets.
Each jewel is handmade, at your measure, according to your specifications before creating it.
Pictures by HS fotografia (facebook)
Press articles
Social networks
Shops