Feedback from our Dawanda customers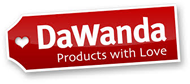 Dawanda was a german online platform where you could find handmade products made by artisans. This was our second online shop. Our first creations started to sell in 2009 and this was the beginning of a wonderful adventure for us with 206 sales; 324 admirers and 71 feedbacks for a score of 5 of 5 stars.
Unfortunately, dawanda was forced to retire from the market in 2018.
the artisans from dawanda were reoriented to Etsy where you will also be able to find us under the name of IATZIL.
We decided to copy paste all the feedbacks from our customers on dawanda so that you will still be able to check them here: