Determine your finger size to purchase a ring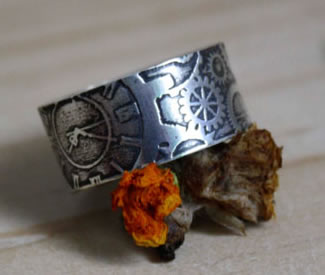 Buying a ring is a difficult exercise. People generally ignore their own finger sizes, and even less the finger size of their partner.
Measuring your finger size by yourself
I do not recommend doing so if you do not have the right material. On this page, you will find different methods but you will soon realize they are not exact: you can squeeze your finger with the paper or it can be too loose. What about if you have not printed the ring paper with the right format?
A ring size is a question of millimeters so precision is essential. The diameter grid at the end of the page will help you better understand this fact.
Therefore, going to a jeweler's and have your finger professionally measured is really the best option. This will prevent you from disappointment and complications about having your ring resized and losing a lot of time.
And how does it work at EmmanuelleGuyon.com?
I always ask my customers how they got their finger size. We are a small team and our work is made one piece at a time. Each jewel is made one by one at an artisan's pace, not industrial. Your piece of jewelry will be made according to your specifications and we trust you will give us the right size to make your custom made jewelry. This will allow a serene transaction for both parties.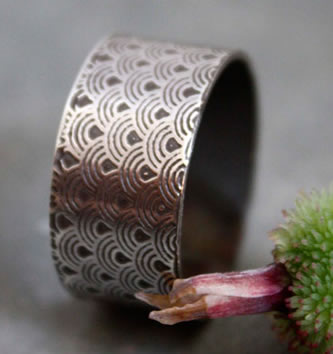 A mistake can lead to complications and extra costs. You will have to send back your ring, go t a jeweler's to know your right size so that we can resize your ring. The whole process can take several weeks (around 8 weeks if everything goes well) between your shipping back to us until you receive back your resized item.
How to measure your finger size
Nonetheless, you will find here some tricks to estimate your ring size. But you will also realize that they are not accurate. These tricks are just here for your knowledge but we will not make your order if you use these methods to know your size as we think this information is not reliable.
The jeweler's advice: if you like and buy rings often, it would be a good idea to invest in a ring sizer. Be aware! The final size of your jewel will also depend on the largeness of the band. It will therefore be important to specify at checkout what type of ring size you've been using.
Measurement methods that do not work
Using a paper scrap to determine your ring size
This is an easy method to set up, but that can prove to be disastrous if you tighten the band too much or not enough. It's about wrapping a strip of paper around your finger and drawing a line where the band intersects. Unfortunately, the result depends on how tight the tape was at the time of measurement. You just have to release the tape a bit at the moment of the stroke and your measurement is already distorted.
Calculating your ring size use a ring sizer band
Like the paper tape, this method can be disastrous. A baguette band too tight or too loose will not allow an exact measurement.
When printing this famous tape, you may also encounter scale or printer configuration issues that will distort your calculations.
Using another ring to determine you ring size
This third method is also not very reliable: a ring distorted by time, a pencil lead too thick, or even a poor reading of the millimeters of your rule may be the factors that will alter your measurements.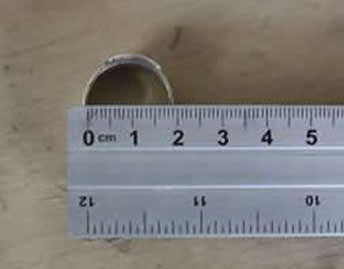 Calculating your ring size with a ring sizer
Just like these other methods, the proper use of this tool will depend on the proper configuration of your printer and your computer.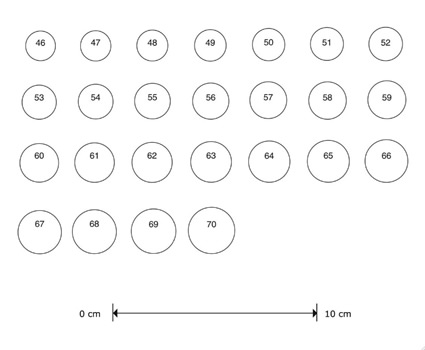 Equivalences for Us ring sizes to French sizes
| | | | |
| --- | --- | --- | --- |
| France | USA & Canada | France | USA & Canada |
| 41 1/2 | 2 | 50 1/4 | 5 1/2 |
| 42 1/8 | 2 1/4 | 50 7/8 | 5 3/4 |
| 42 3/4 | 2 1/2 | 51 1/2 | 6 |
| 43 3/8 | 2 3/4 | 52 1/8 | 6 1/4 |
| 44 | 3 | 52 3/4 | 6 1/2 |
| 44 5/8 | 3 1/4 | 53 3/ | 6 3/4 |
| 45 1/4 | 3 1/2 | 54 | 7 |
| 45 7/8 | 3 3/4 | 54 5/8 | 7 1/4 |
| 46 1/2 | 4 | 55 1/4 | 7 1/2 |
| 47 1/8 | 4 1/4 | 55 7/8 | 7 3/4 |
| 47 3/4 | 4 1/2 | 56 1/2 | 8 |
| 48 3/8 | 4 3/4 | 57 1/8 | 8 1/4 |
| 49 | 5 | 57 3/4 | 8 1/2 |
| 49 5/8 | 5 1/4 | 58 3/8 | 8 3/4 |
| | | | |
| --- | --- | --- | --- |
| France | USA & Canada | France | USA & Canada |
| 59 | 9 | 67 3/4 | 12 1/2 |
| 59 5/8 | 9 1/4 | 68 3/8 | 12 3/4 |
| 60 1/4 | 9 1/2 | 69 | 13 |
| 60 7/8 | 9 3/4 | | |
| 61 1/2 | 10 | | |
| 62 1/8 | 10 1/4 | | |
| 62 3/4 | 10 1/2 | | |
| 63 3/8 | 10 3/4 | | |
| 64 | 11 | | |
| 64 5/8 | 11 1/4 | | |
| 65 1/4 | 11 1/2 | | |
| 65 7/8 | 11 3/4 | | |
| 6 1/2 | 12 | | |
| 67 1/8 | 12 1/4 | | |