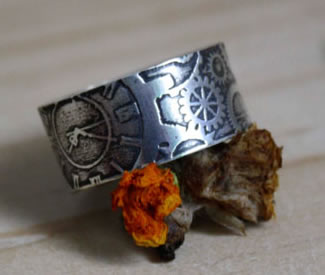 Sterlinf silver engraved ring, Doctor Jekyll
Buying a ring is a difficult exercise. People generally ignore their own finger sizes, and even less the finger size of their partner.
Measuring your finger size by yourself
I do not recommend doing so if you do not have the right material. On this page, you will find different methods but you will soon realize they are not exact: you can squeeze your finger with the paper or it can be too loose. What about if you have not printed the ring paper with the right format?
A ring size is a question of millimeters so precision is essential. The diameter grid at the end of the page will help you better understand this fact.
Therefore, going to a jeweler's and have your finger professionally measured is really the best option. This will prevent you from disappointment and complications about having your ring resized and losing a lot of time.
And how does it work at EmmanuelleGuyon.com?
I always ask my customers how they got their finger size. We are a small team and our work is made one piece at a time. Each jewel is made one by one at an artisan's pace, not industrial. Your piece of jewelry will be made according to your specifications and we trust you will give us the right size to make your custom made jewelry. This will allow a serene transaction for both parties.
A mistake can lead to complications and extra costs. You will have to send back your ring, go t a jeweler's to know your right size so that we can resize your ring. The whole process can take several weeks (around 8 weeks if everything goes well) between your shipping back to us until you receive back your resized item.
How to measure your finger size
Nonetheless, you will find here some tricks to estimate your ring size. But you will also realize that they are not accurate. These tricks are just here for your knowledge but we will not make your order if you use these methods to know your size as we think this information is not reliable.
The jeweler's advice: if you like and buy rings often, it would be a good idea to invest in a ring sizer. Be aware! The final size of your jewel will also depend on the largeness of the band. It will therefore be important to specify at checkout what type of ring size you've been using. 
Using a paper scrap to determine your ring size
It is an easy way to measure your size but it can turn bad if you wrap the paper too tightly or too loosely around your finger. You have to be careful with how you will wrap it. I advise you to use this method only if you cannot use a ring as a reference.
Determining the size of your finger with a band of paper
The first method to measure your size without printing any material is to use a band of paper or a string. Cut a paper band measuring 8 to 10 cm long and about 0,8 to 1 cm wide.
Wrap it around your finger. Mark it where the paper intersects. Be careful not to wrap it too tightly because of your knuckle which can be thicker than your phalanx.
Measure the length of your paper with a ruler and check the matching length and size board at the bottom of this page.
Example: how to calculate your ring size using a band of paper. According to the mark made on the paper, this would be a French size
Calculating your ring size use a ring sizer band
The second method is to print this paper ring sizer to determine your size. Click on the image to download the ring sizer document.
Be careful to configure your printer to print without any scale change of our PDF document. Please, make sure that the ruler measures 12 cm.
Click here to download our PDF ring sizer band
Once you have cut your ring sizer, wrap it around your finger so that you can see the printed side. Tighten it slightly and read the number given by the largest limit of your ring sizer. Be careful not to wrap it too tightly because of your knuckle.
The example shows a 56 French ring size.
Using another ring to determine you ring size
It is the most efficient method because you are sure of the size that will fit you.
It can also be easy if you plan to offer a ring to your loved one or a friend, as you only just have to take one of his or her rings…
Calculating your ring size with the diameter of a ring
The easiest way to know your ring size is to measure the inside diameter of a ring fitting you perfectly. You can check on the board below to know your size.
Measure the inside diameter of your ring using a ruler or a caliper. To make sure, you can trace on a paper the inside outline of your ring and then, measure it.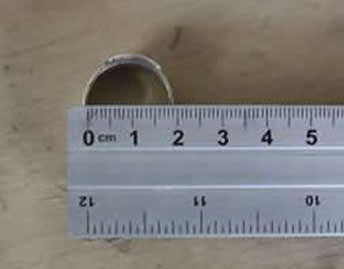 Calculating your ring size with a ring sizer
Another method to know your ring size is to print the following ring size sheet below.
Be careful when printing the sheet. Your printer has to be configured to respect the scale. Please, check the scale on the sheet; it has to be 10 cm.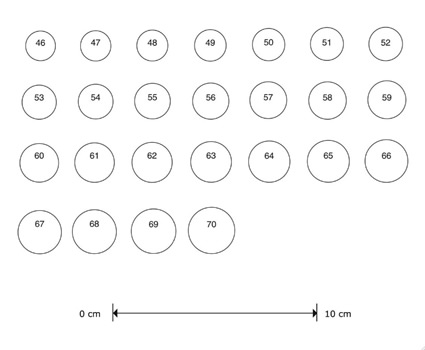 Click here to download the printable ring sizer
Then place your ring on the different circles and look for the best size. The girth of the circle has to appear just at the limit to the inside of your ring.
| | |
| --- | --- |
| | Take the inside diameter of the ring, not the one outside the ring. |
| | Take the inside diameter that fits the best to your ring by trying different circles on the sheet. |
| | When you will find the right size, it will look like the example on your left. The diameter of the ring fits perfectly the girth of the circle. |
Diameter, girth and size board
| | | |
| --- | --- | --- |
| Size | Diameter | Girth |
| 46 | 1.46 | 4.58 |
| 46.5 | 1.47 | 4.63 |
| 47 | 1.49 | 4.68 |
| 47.5 | 1.51 | 4.74 |
| 48 | 1.53 | 4.80 |
| 48.5 | 1.545 | 4.85 |
| 49 | 1.56 | 4.90 |
| 49.5 | 1.58 | 4.96 |
| 50 | 1.6 | 5.02 |
| 50.5 | 1.61 | 5.06 |
| 51 | 1.62 | 5.09 |
| 51.5 | 1.63 | 5.12 |
| 52 | 1.65 | 5.18 |
| 52.5 | 1.66 | 5.21 |
| 53 | 1.68 | 5.28 |
| 53.5 | 1.7 | 5.34 |
| 54 | 1.72 | 5.4 |
| 54.5 | 1.73 | 5.43 |
| 55 | 1.74 | 5.46 |
| 55.5 | 1.76 | 5.53 |
| 56 | 1.78 | 5.59 |
| 56.5 | 1.8 | 5.65 |
| 57 | 1.81 | 5.68 |
| 57.5 | 1.83 | 5.75 |
| 58 | 1.85 | 5.81 |
| | | |
| --- | --- | --- |
| Size | Diameter | Girth |
| 58.5 | 1.86 | 5.84 |
| 59 | 1.88 | 5.9 |
| 59.5 | 1.90 | 5.96 |
| 60 | 1.92 | 6.03 |
| 60.5 | 1.93 | 6.06 |
| 61 | 1.95 | 6.12 |
| 61.5 | 1.96 | 6.15 |
| 62 | 1.98 | 6.22 |
| 62.5 | 1.99 | 6.25 |
| 63 | 2 | 6.28 |
| 63.5 | 2.02 | 6.34 |
| 64 | 2.04 | 6.41 |
| 64.5 | 2.05 | 6.44 |
| 65 | 2.06 | 6.47 |
| 65.5 | 2.08 | 6.53 |
| 66 | 2.1 | 6.59 |
| 66.5 | 2.11 | 6.63 |
| 67 | 2.12 | 6.66 |
| 67.5 | 2.13 | 6.69 |
| 68 | 2.15 | 6.75 |
| 68.5 | 2.17 | 6.81 |
| 69 | 2.19 | 6.88 |
| 69.5 | 2.20 | 6.91 |
| 70 | 2.22 | 6.97 |
| | | |
Equivalences for Us ring sizes to French sizes
| | | | |
| --- | --- | --- | --- |
| France | USA & Canada | France | USA & Canada |
| 41 1/2 | 2 | 50 1/4 | 5 1/2 |
| 42 1/8 | 2 1/4 | 50 7/8 | 5 3/4 |
| 42 3/4 | 2 1/2 | 51 1/2 | 6 |
| 43 3/8 | 2 3/4 | 52 1/8 | 6 1/4 |
| 44 | 3 | 52 3/4 | 6 1/2 |
| 44 5/8 | 3 1/4 | 53 3/ | 6 3/4 |
| 45 1/4 | 3 1/2 | 54 | 7 |
| 45 7/8 | 3 3/4 | 54 5/8 | 7 1/4 |
| 46 1/2 | 4 | 55 1/4 | 7 1/2 |
| 47 1/8 | 4 1/4 | 55 7/8 | 7 3/4 |
| 47 3/4 | 4 1/2 | 56 1/2 | 8 |
| 48 3/8 | 4 3/4 | 57 1/8 | 8 1/4 |
| 49 | 5 | 57 3/4 | 8 1/2 |
| 49 5/8 | 5 1/4 | 58 3/8 | 8 3/4 |
| | | | |
| --- | --- | --- | --- |
| France | USA & Canada | France | USA & Canada |
| 59 | 9 | 67 3/4 | 12 1/2 |
| 59 5/8 | 9 1/4 | 68 3/8 | 12 3/4 |
| 60 1/4 | 9 1/2 | 69 | 13 |
| 60 7/8 | 9 3/4 | | |
| 61 1/2 | 10 | | |
| 62 1/8 | 10 1/4 | | |
| 62 3/4 | 10 1/2 | | |
| 63 3/8 | 10 3/4 | | |
| 64 | 11 | | |
| 64 5/8 | 11 1/4 | | |
| 65 1/4 | 11 1/2 | | |
| 65 7/8 | 11 3/4 | | |
| 66 1/2 | 12 | | |
| 67 1/8 | 12 1/4 | | |