Custom order, custom sterling silver jewelry
Sometimes, you feel like you want to buy a unique jewel for a special occasion or just to treat yourself and it is sometimes difficult to find what you want in jewelry stores in your city.
A custom order jewel according to your wishes
There are a lot of special occasions to treat yourself or to offer a jewel: mother's day, anniversary, birthday jewels, birthstones jewels, a diploma… or a special jewel that symbolizes your character or a friend: a hobby or a passion (music, archeology, a country…) a job, a special link (love, friendship, child-mother link…)
And this is when things are getting complicated because most of the common jewels you will find in specialized shops are not very originals and does not always meet up with your expectations for a present.
Most of the time, what they call "personalized jewels" in jewelry stores are jewels on which you can add a name on a pendant or a bracelet or a ring.
As a silversmith, I offer you the opportunity to create a custom order according to your criteria, or an idea that you have in mind, to offer as a personalized gift, or just for you.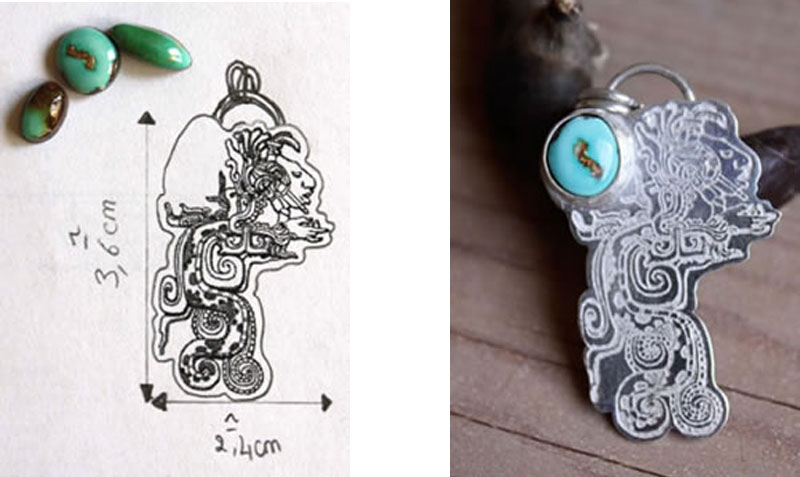 Let's work together to create your personalized jewel
The making of your jewel starts by talking together to define the piece of jewel of your dreams: a special event, its shape, its symbolism, the color, a stone that you love…
You will see on this website that I make a lot of different jewels: rings, bracelets, earrings, cufflinks, anklets, brooches. This is just an example but if you are thinking of something else, we can see what I can do for you.
I like to mix sterling silver and colors thanks to minerals. And it is also possible to create the jewel of your dreams using a stone as the basis. Below, you will find a link to my semi-precious stones catalog. I have a stock of stones that is in constant movement because I use these same cabochons in my creations. These stones are an example of what could suit you. But if you think of a special stone and you cannot find it here, we can start to look for one for a specific creation.
You can already have the exact idea of the jewel you want and thus, we will be able to define quickly a sketch for your project. If not, I will sketch different ideas and it will take a little bit longer to define the final project.
Conditions for the making of your custom order jewel
After sketching your jewel, I will give you an estimate price according to the weight of the piece and the amount of time it will take me to make it.
It is only after you agreed that I will start to make your personalized jewel.
Unless your order is obliging me to some expenses for my young brand (such as the price of a rare semiprecious stone etc… and I will tell you in that case), or that the theme of your personalized is too personal, the making of your jewel does not oblige you to buy it in the end.
I will send you some pictures of the finished object. If you like it, then we will see what means of payment we will use.
If the jewel is not what you expected it to be, I will put the jewel to be sold in my shop.
Should you have any questions and that you did not find an answer here, feel free to contact me :)
Emmanuelle.