Fire opal: history and healing stone properties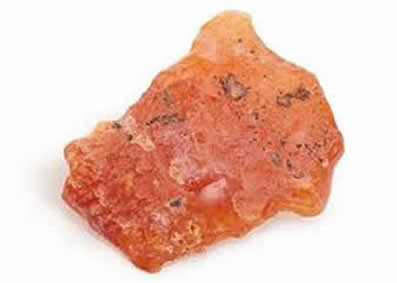 Fire opal properties
The fire opal is transparent with orange and yellow hues, and even red hues. You can see different colors in it, or not.
As a lot of opals, between 3 and 20 percent of its weight is made of water. It is therefore a fragile stone and it can crack if it dries too much. It is therefore strongly advised to put it in water from time to time to maintain the good state of the stone.
When the fire opal is cut in the matrix (the rock around the stone), the expression "cantera opal" is used. It means a stone pit excavated opal.
Mines: mainly in Mexico but also in Guatemala, Honduras, the USA, Australia.
History, legends and beliefs about the fire opal
Pre-Hispanic people from Mexico would already know the fire opal before the Spanish arrived. They would use it in their jewelry, in the architecture and in religious ceremonies.
Aztecs would call it Quetzalitzlipyollitli or "stone of the bird of paradise" which was referring to the quetzal. It is a very symbolic bird for Mesoamerican people.
Healing properties and benefits of the fire opal
It has the same general healing properties than the opal but also owns specific ones.
It would stimulate the blood system.
Fire opal would cure some nervous system problems.
It would reduce lung diseases.
It would be good for the endocrinal system, as well as with thyroid and pituitary.
Fire opal would help with the good health of the heart and of bone marrow.
It is the stone of sleep.
It would be the perfect stone for both sexes fertility.
Fire opal is used to help fighting against tiredness.
It would help fighting hormone disorders that can create problems in the menstruations problems.
It would increase sexual vitality.
It has the same properties than opal in general.
/!\ Please note that all healing properties listed are collected from various sources. This information is offered as a service and not meant to treat medical conditions.
To learn more about litotherapy, we recommend you the following books: